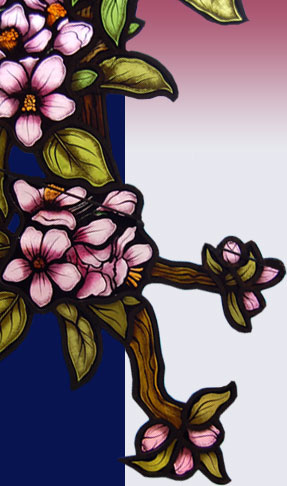 News
HAPPY HANUKKAH
Hope the eight nights of Hanukkah are filled with light, laughter, and love for you and yours this season!
HOLIDAY CLOSING
We will be closed for the holidays from December 24th thru Jan 4th. We will reopen at 10:00am, Friday, January 5, 2024 and resume normal store hours.
HEADS & TAILS
A new addition to our line-up are Heads & Tails glass. Let your creativity loose when using these cut offs from the top and bottom of glass sheets. Perfect for 3D designs and art panels in wrought iron stands.
WORKBOARDS
We have both particle board and homosote workboards. The both come in 16"x 24" and 24" x 32" sizes. We also have mini 12"x 16" wordboard (particle) with a 90 degree molding lip on 2 sides.
FOILERS
We have the new hand foilers (similar to the old Glastar) in stock as well as the ever-popular Table Foiler.
METAL ART
We added some very cool 3D Painted Metal Art wall hangings with Abalone Shell inlays. Choose from Blue Heron, Blue Crab, Sea Horse, Octopus, Jelly Fish, and Sea Turtle.
Feature Items
Polished wood displays. We have a selection of polished wood displays including maple, cherry, mahogony, oak and driftwood. Displays can be used with stand-up stained glass pieces, others are made to display an 8" or 10"round fused or foil panel.
LED String Lights. A 50 led silver wire string light (16.4 feet). The power supply pack requires 3 AAA batteries. Has a 13 key remote with 8 different light modes, a timer with 6 hours on and 18 hours off per day. Great for lighting 3D projects.
Wine Bottle LED String Lights. A 2 foot silver wire with 12 warm white lights. Fits standard wine bottle opening.
96 COE Pebbles. We have added Ocean Side Glass & Tile System 96 fusible pebbles in bags of 25 each. A variety of colors are available.
Wooden Shapes. A variety of wooden shapes made of Birch or MDF in various designs which can be used as a mosaic base or simply painted. Shapes include a Dolphin, Sword Fish, Angel Fish Crab, Lobster, Seagull, Seahorse, Shell, Sea Turtle, Heron, Flamingo, Owl, Frog, Dragonfly, Butterfly, Lady Bug, Heart, Cross and Fleur De Lis.
Lead Came - 90 degree corner lead for a clean looking assembly of boxes, lanterns, etc. Also colonial lead for a much more elegant look from the traditional flat or rounded came.
Wrought Iron Art Stands - Have you run out of windows for your stained glass pieces? Wrought iron art stands lets you display your art work anywhere. We have stands to display round panels in 8", 10", 12" and 18" diameters as well as square panels in 4", 8" and 12" sizes that are place in on the bias.
Shells and Agates - We now carry an assortment of shells and sliced shells including nautilus shells featured in our nautical art panel class. We've also have beautiful sliced agates in a variety colors and sizes for those whom a shell design just won't fit their decore.
| | |
| --- | --- |
| Monday | Closed |
| Tuesday | 10 - 6* |
| Wednesday | 10 - 6* |
| Thursday | 10 - 6* |
| Friday | 10 - 5 |
| Saturday | 10 - 3 |
| Sunday | Closed |
* Open until 9 PM when classes are in session. Please call to verify closing time.